I recently read an article entitled 'Religion' billboard brings debate in which metion is made of how offended people are in Birmingham, Alabama because of a billboard. The billboard was paid for by the Alabama Freethought Association, and is a part of the national campaign by the Freedom From Religion Foundation.
It seems that the group had wanted to get billboard space near Birmingham-Shuttlesworth International Airport, but Lamar Advertising, the owners of many many billboards, wouldn't let them have one. Why? Because they found the content offensive. Sanctimonious pricks.
The AFA were able to get a billboard from Bentley Advertising, but it's about 10 miles east of Birmingham instead of the choice location they had wanted. A Freethought associate member in Talladega has received "ugly" and "hateful" calls about the billboard. People are even starting a petition drive to have it taken down. Hypocritical fuckwads.
In case you haven't seen one of these billboards, here's a photograph of one of them in Denver, Colorado: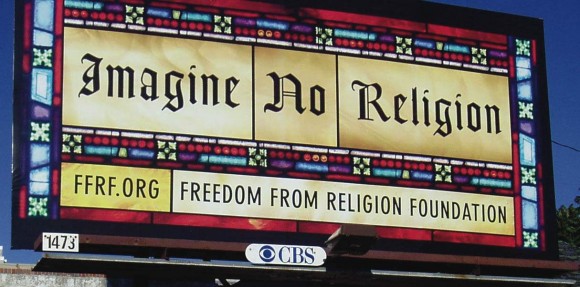 Of course, for all of those tender-hearted crybabies down in Alabama (and elsewhere), I had to make my own special version of said billboard. For all of you little whiny pricks; this one's for you.