Lest we forget that the hatred of people based on their sexuality is not exclusive to fanatics in the United States: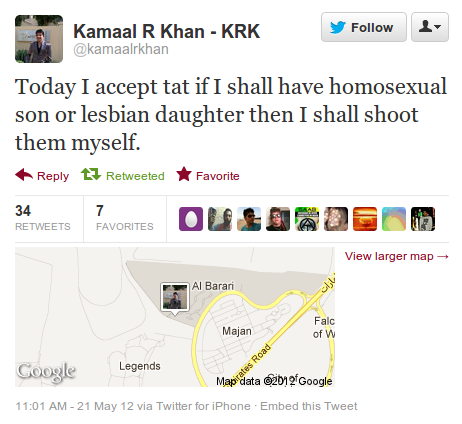 For those who may not be able to read the graphic, Mr. Khan tweeted this gem on 21 May 2012:
"Today I accept tat if I shall have homosexual son or lesbian daughter then I shall shoot them myself."
That tweet came from Kamaal Rashid Khan. He's a multi-millionaire film actor/producer from India who now has his home in Dubai. He also appears to be a violent homophobe.
Maybe it's just me, but I wouldn't hesitate to beat the fuck out of any asshole who thinks it would be proper to kill someone because of their sexuality, particularly if that someone happened to be their own child. This particular slimebag is among the lowest of the low. I hope I never happen to find myself in the same vicinity as this piece of filth.