In which I describe what's going on with my cancer, and what will be happening over the next several months.
My cancer continues. It has been a while since I wrote about the status of my health. [See Nothing's Gonna Change My World and Cancer and Stages] I want to take this opportunity to fill everyone in about the cancerous cells in my body and their efforts to undermine my life.
What's Happened So Far?
I should provide a brief recap. On May 19th, 2010, I was diagnosed with Hodgkin's lymphoma. The six months following my diagnosis were filled with bi-weekly visits to Carle Cancer Center, where I was treated with ABVD regimen chemotherapy. ABVD has been the first-line treatment for Hodgkin's lymphoma since its development in the mid 1970s.
As the chemotherapy drugs destroyed the fast-growing cancer cells in my body, they also damaged or destroyed other fast-growing cells. This means that my bone marrow temporarily lost some of its ability to produce the white blood cells that are required to fight infections. When the number of neutrophil cells falls below a certain level, a person is said to have neutropenia.
While experiencing neutropenia, my chemotherapy treatments were postponed until my blood counts were above a required level. Postponing the therapy makes it less effective. My treatments had to be postponed on two occasions. Thanks to the discovery and cloning (by recombinant DNA) of G-CSF (granulocyte colony-stimulating factor), the drug Neulasta is available.
For the remainder of my chemotherapy sessions, I received an injection of Neulasta the day following treatment. This prompted my bone marrow to produce more stem cells, providing the boost that I needed in order to get chemotherapy on time. The biggest drawback to Neulasta is its cost: Each 6ml injection was charged at about $5200.
Finishing Standard Chemotherapy
By November, I was nearly finished with the standard six cycles (twelve sessions) of ABVD chemotherapy. My oncologist scheduled a PET/CT scan for November 22nd so that we could see whether or not the chemotherapy had rid my body of cancerous cells.
Guess what. It hadn't. Though the treatment had, in fact, greatly reduced the cancer, it had not been completely eliminated. My oncologist, Dr. Johnson, who happens to be one of the most wonderful people I've ever met, suggested that my next step in treatment should be a bone marrow or stem cell transplant. Unfortunately, such treatment is not available at the hospital where I've been treated since my diagnosis.
On to New Places
My oncologist recommended that I seek further treatment at the Siteman Cancer Center in St. Louis, Missouri. She made the referral for me to see Dr. DiPersio there. He had been at the local cancer center in the past to present information about the services offered at Siteman. Paperwork was filled out, and records were transferred. My appointment for a consultation with Dr. DiPersio was made for March 2nd.
Siteman Cancer Center is located at the Center for Advanced Medicine at Barnes-Jewish Hospital within the Washington University Medical Center complex in the Central West End area of St. Louis. It's a beautiful facility, and it's impressive inside and out.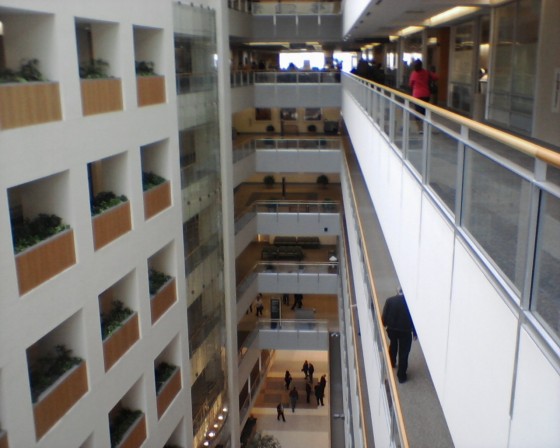 An initial consultation and examination were in store for me on that first day. Dr. DiPersio is very friendly and easy to talk with. We reviewed my medical history and discussed what might be in store for me. He requested that I get another PET/CT scan to see if my cancer had progressed since I completed my initial chemotherapy treatment. The following day I drove to St. Louis for my PET/CT scan. I spent much more time driving than I did at the cancer center.
The following Monday, March 7th, Dr. DiPersio's office telephoned me with the results. The comparison of the PET/CT scans indicated that the cancer had progressed over the intervening months. The fact that I was still asymptomatic seems to suggest that the progression has also been quite slow. Dr. DiPersio also recommended that we proceed with preparation for an autologous stem cell transplant. My local oncologist, Dr. Johnson, would also be receiving information from them regarding my next steps in treatment. I'll meet with her on March 17th.
What happens next?
The first step, following my next appointment with my local oncologist, will be a few sessions of salvage chemotherapy. That term is used to refer to any chemotherapy which follows a recurrence of cancer, or (as in my case) the failure of standard chemotherapy. I will probably receive the ICE or R-ICE chemotherapy regimen.
I'll return to St. Louis on May 16th for another PET/CT scan to judge the progress of the salvage chemotherapy. Following that will be my preparation for a hematopoietic stem cell transplant. It will be an autologous transplant, meaning that my own cells will be harvested beforehand, then returned to my system later.
Siteman Cancer Center has produced a wonderful educational video about the autologous stem cell transplant process. The procedures will require that I spend approximately three weeks in the hospital in St. Louis. I think I'll be in good hands. From Siteman's Bone Marrow and Stem Cell Transplantation program page:
The Bone Marrow and Stem Cell Transplant Program at the Siteman Cancer Center is one of the largest in the world, completing nearly 400 transplants each year – and more than 4,000 since 1982. The program has performed unrelated donor transplants since 1991.
I'll be taking part in two research studies during my treatment. Siteman is part of the Washington University School of Medicine, so cutting-edge research is also an important part of what they do. I'll provide more information about that soon.
For the time being, I'm reading more about what will be happening to me. I'm getting plenty of rest. I'm taking care of myself. I'm ready to be cancer-free.